Risers & Effluent Filters

Septic Risers
Tuf-Tite Risers
Green lids blend in with your landscape, are corrosion-resistant, durable, and strong. These risers are easy to install and the screws are located on the outside for easy assembly and to avoid erosive gases.
Riser Package Includes: Lid
Segment - 6" Height x 24" Diameter

Adapter
*Additional segments are available.
Please click below for additional information on septic risers.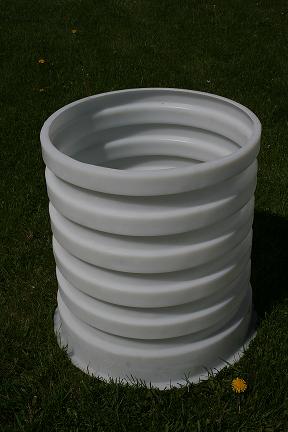 Riser for Plastic Tanks
Dimensions: 20" Diameter x 24" Height
Effluent Filters NSF 46

Install to keep solids from entering the tile bed to extend the life of your septic system.
Effluent Filter - Polylok PL-122
Features:
offers 122 linear feet of 1/16" filter slots
has a flow control ball which deflects solids away and stops effluent from entering when filter is removed for cleaning
ideal for residential waste flows up to 1,500 gallons per day
comes complete with its own housing but easily installs in any new or existing 4" outlet tee
will operate efficiently for several years under normal conditions
Secure plastic design ensures this filter keeps solids from entering the tile bed. Easy to install and easy to clean. Disposable Yellow Effluent Filter is also available.